Login
---
You need to log in to create posts and topics.
Cabine - Camp Decadence
#1
· 8 August 2021, 07:49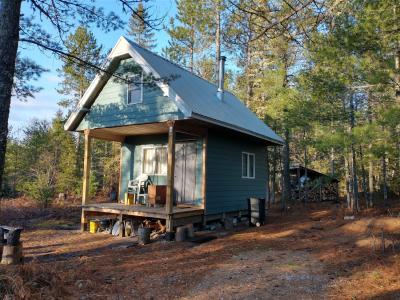 Camp Decadence
Location: North-Central United States - Climate Zone 7
---
All framing is 16 inch on center. Main floor joists are 2x10 inches, walls and 2nd floor joists are 2x6, and roof rafters are 2x8. Roof pitch is 12/12 (45º). Everything is insulated with R-19 fiberglass.
Construction began in 2012. Total cost so far is around 13,000 USD and completion should top out around 15k. This includes a small amount for labor, specifically installing most windows, the roof, and the house wrap in 2013. It also includes some second-hand materials that reduced costs.
Cabine:
12x16 main room
12x6 covered porch
12x8 loft bedrooms (2) upstairs with…
12x5 landing/hall between
---
---
Power System
400 Watt Solar Panels
2x AGM Lead Acid Batteries at 24 Volt : 35 Ah
60A MPPT charge controller
Heating
6 Kw Stove for wood logs or coalbrickets.
Water
Wash water is sourced from snow in winter, rain gutters/barrels in summer, and an on-property creek when those fail.
Drinking/cooking water is sourced in town and brought in jugs.
If you would like to see more pictures are read up on details of the build come visit https://old.reddit.com/user/bergamotandvetiver76/submitted/ .
---
Click for thumbs down.
0
Click for thumbs up.
0