Chata – Táborská dekadence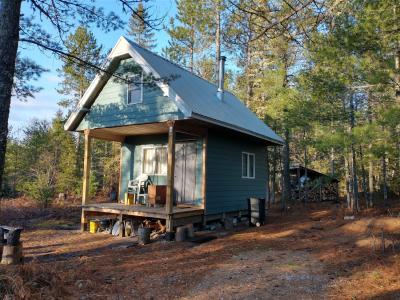 Táborská dekadence
Umístění: Severo-střed USA – Klimatické pásmo 7
---
Veškeré rámování je 16 palec uprostřed. Hlavní podlahové nosníky jsou 2×10 palce, stěny a trámy ve 2. patře jsou 2×6, a střešní krokve jsou 2×8. Rozteč střechy je 12/12 (45º). Everything is insulated with R-19 fiberglass.
Construction began in 2012. Total cost so far is around 13,000 USD and completion should top out around 15k. This includes a small amount for labor, specifically installing most windows, the roof, and the house wrap in 2013. It also includes some second-hand materiály that reduced costs.

Chata:
Total Size

: 400

ft² usable space

12×16

main room

12×6

covered porch

12×8

loft bedrooms

(2)

upstairs with…

12×5

landing/hall between
---
---
Napájecí systém
400 Watt Sluneční Panely
2x AGM Lead Acid Baterie na 24 Volt : 35 Ah
60A MPPT charge controller
1,6 kW Inverter

Topení
14 kW Stove for wood logs or coalbrickets. (can be leveld down to 3kW )
Voda
Wash voda is sourced from snow in winter, rain gutters/barrels in summer, and an on-property creek when those fail.
Drinking/cooking water is sourced in town and brought in jugs.
Special thanks to OffGridEnclave community member nirreskeya for providing Pics and Infos to present this as Project.
If you would like to see more pictures or read up on details of the build go visit https://old.reddit.com/user/bergamotandvetiver76/submitted/ .
---